By Andrew Gmerek, RE/MAX Lead Web Editor
I am "that" neighbor.
You know the one. A relatively normal family man who keeps his lawn cut, his trash picked up and who, on occasion, helps his neighbors shovel their walks or takes in their papers while they're on vacation.
But then a couple of weeks before Halloween things change.
My once-friendly neighbors eye me warily every time I step out the front door, and kids walking past the house shift to the other side of the street.
Why? It could be a recurring sewer issue, but I like to think it's because I really like Halloween. And it shows. It shows in the ghosts that haunt my front lawn, the skulls that float in the upstairs windows and the eerie Halloween carols I play while I'm ghouling up my house.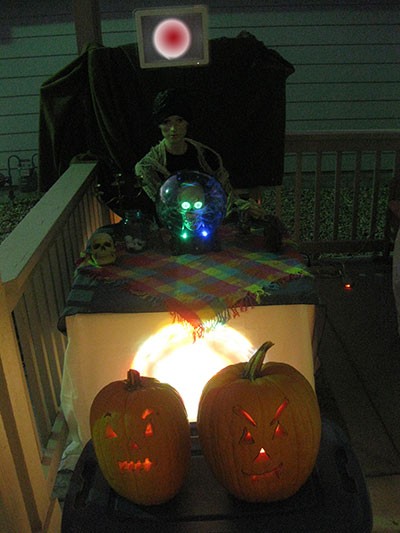 Every year I try, at least once during the nightly parade of trick-or-treaters, to get a child or adult to freeze in place, open his or her mouth, point and then run. That's the reaction that drives me every year to create bigger and better Halloween displays.
It's not too late to make your house the scariest on the block. Here are five simple tips to prepare for your Halloween haunt. Follow my advice if you dare.
• Start out small. Even the smallest scares placed correctly can have a dramatic impact. Study how people approach your house and then hide surprises around every corner to startle the unsuspecting. It's amazing the effect the simplest static props can produce when positioned with imagination.
• Create a theme or story. This is key. Everyone likes a great story, and trick-or-treaters are no exception. So don't go out and buy a bunch of random decorations but come up with an idea and stick with it. And stay away from "mad-scientist-creates-mutant-creatures." It's been done.
• Lighting and music are crucial. You can do more with simple lighting and eerie music than with expensive props. I've had children refuse to step on my porch simply because of my Halloween soundtrack and lights arranged to create a bizarre effect.
• Don't fall off a ladder. This year I did just that and it really hurts. It is, however, a great way to test your kids' knowledge of the 911 emergency system.
• It's not Halloween without a fog machine. Buy one. And also buy a timer. It'll keep you from having to stand outside all night in the cold pressing a button to keep the fog rolling in. And if you think this might be too much of an expense, remember, you can always use it to create a scary effect on other special holidays. I mean, who wouldn't like to see Santa and his eight tiny reindeer come blasting out of a thick fog to scare all the little good girls and boys.
Halloween is an amazing time of year and brings back powerful memories for me. The smell of fallen leaves, the taste of fresh apple cider and the screams of small children as they sprint from my front door make me smile. These are the days that will live in the memories of children in your neighborhood. Don't let them down.
Andrew's Top 7 Halloween Carols